Yesterday was the last ride for the 2021/22 season.
River Valley Stables is now closed for the next 6 months.  We are opening for the 2022/23 season on the 1st of November this year.  River Valley Lodge and the lodge kitchen remain open, (except between the 4th and 28th July).
Last month I was sitting on the steps of our house after a ride with my loyal guide and mate Tome.
Tome is 11 years old next season, and she has been with me on many of our rides.  Most of our guests would have met her, an outgoing bundle of black and white friendly energy.  I looked at her and thought, "You know what Tooms, neither of us are getting any younger."
This got me thinking more about the direction of where I think the Stables needs to focus.  The past 2 years with the pandemic, lockdowns, and no international visitors there has been space and time to contemplate such things.  Before this we catered for anyone that walked through the Stables door, no matter what their experience was.  We also had 3 guides working at the Stables over the summer season.
I wanted to offer a longer horse-riding holiday for people that could ride.
In the season of 2019/20, we launched the 8-day River Valley Ride.  It booked out and people loved it.  The opportunity to bond with a horse that was theirs for 8 days, cantering over the tops of hill country, descending into beautiful river valleys, staying in comfortable lodgings, and meeting the locals was a hit.  The horses liked the consistency of their one rider and confidence grew between both.  It was encouraging and special to see the horses bonding and enjoying the continuity of one rider.  On the last ride of the season March 2020, we were on an 8-day ride, and reasonably oblivious to what we would ride home to.  We arrived home to the country locking down.
The first year of the pandemic I decided it probably wasn't viable to hire a guide, so guided the trips myself.  We had a few Kiwis' book our 8-day and 3-day rides.  Janey, my daughter, jumped in to help me guide those. We would not have done that together under past circumstances, and it's something I'll treasure.  For those of you that had Janey on a ride, you will remember her quest for fun and irresistible persuasive personality pushing you that little bit further out of your comfort zone 😉
Janey was not always available so often it was back to me guiding the trips.  We had more Kiwi's booked on multi days, so a 2nd guide was needed.  Another twist of circumstances, that I would never have considered, was asking my younger sister Maryanne if she would jump in and be 2nd guide.  She could and loved the idea!  I can't remember the last time we rode together.  We would have been kids when we had ponies.  She was awesome, and we had so much fun together with our kiwi guests.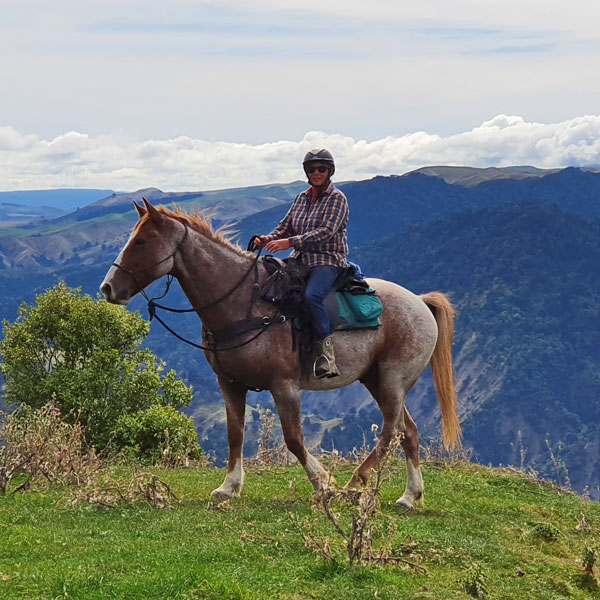 For the past 2 years we had the privilege of riding with Kiwi's and sharing our culture together.
I look back on it and am so proud of the little team that kept the Stables such a fun and happy place for people to experience a horse-riding holiday.  Janey, Miranda, and Maryanne you are all such great hosts and I love how you made those rides so enjoyable!
Next season looks different again. 
With the borders opening our 8-day rides are booking out fast.  Last time I checked there were only 2 rides left with some spaces.
Back to that day sitting on the steps I made the decision to only offer Rides for Riders.  Our days of being all things to all abilities was too taxing on the horses, and they had just got too damn smart.  They know if you know how to ride, and they know if you don't.  Next season on offer is a half day and full day ride for our guests staying at River Valley Lodge that can ride, and finally the 8-day River Valley Ride, the crème of the crème.  Don't miss out!
I am already so looking forward to seeing the many beautiful happy faces that will be on next season's rides, and especially those who are returning for repeat visits. It will be so good to see you again.
See you soon – Nicola