2018 Customer Feedback Award, Kiwi Experience
Accommodation of the Year
Each year Kiwi Experience hold their annual 'Green Fest'. A party that celebrates the relationship that many operators and providers have with what is New Zealand's leading transport network for young travellers.
River Valley's relationship with Kiwi Experience started in 1995, before many of the current coach travellers were born. It is a relationship that underpins much of what we are able to accomplish here in the back blocks of Taihape. For a business relationship to last this long we would like to think that we must be doing something right, and so it would appear.
We were rapt to receive the Customer Feedback Award for Accommodation of the Year 2018. What made this particular award so special was that it was entirely based on feedback from people who had visited River Valley. What customers were really rating was the entirety of the River Valley experience.
TripAdvisor Certificate of Excellence & Certificate
of Excellence Hall of Fame
River Valley has been awarded the TripAdvisor 'Certificate of Excellence' for 7 years in a row (2014, 2015, 2016, 2017, 2018, 2019, 2020), making us eligible for the TripAdvisor 'Hall of Fame'.
Certificates of Excellence are awarded to hospitality businesses that deliver consistently great service and that have consistently achieved great reviews over the past year, maintaining a rating of 4 or 5 stars. You can read some of our great reviews here.
2006 Supreme Winner, Rangitikei Business Awards
In November 2006, at a presentation in Marton, River Valley was awarded not only the Best Hospitality Business Award, but also the Supreme Award for the top business of all types within the Rangitikei District.
The judges, who came from the Massey University School of Business, had this to say – "One business – the Supreme Award Winner – was identified with world-class performance in their respective industry, and is a credit to New Zealand………………….and exhibit an overwhelming desire for excellence."
Having won the Supreme Award twice, the rules no longer allow River Valley to enter this particular Business Awards process. What this means is that we can now get on with our lives and have one less thing to do!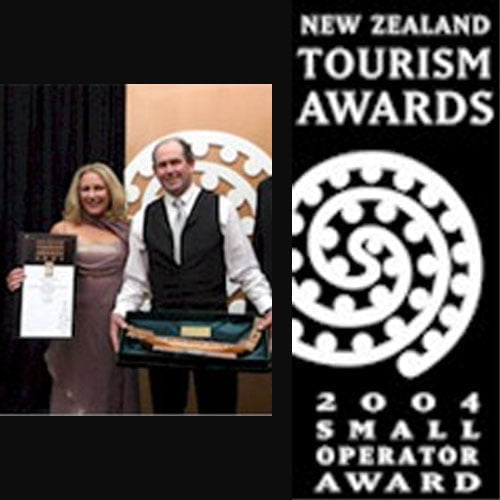 The 2004 New Zealand Tourism Award.
2004 Small Tourism Business Operator Award (National Award)
What a thrill this was! This was a level of recognition we had strived for for a number of years.
The Judges recognised the company's dedication in awarding it the Small Tourism Business Operator Award, saying: "Brian and the team are incredibly committed – they are a great example of a business meeting the challenges of a remote location."
Brian and Nicola accepted the 2004 Small Tourism Business Operator Award, at the New Zealand Tourism Awards Gala night in Taupo. An event attended by about 600 people from within the New Zealand Tourism Industry.
Supreme Business Award, Rangitikei, 2003
In 2003 River Valley entered the Centreport Business Awards for our region, the Rangitikei.
We were named not only as the winners of the Wanganui UCOL Excellence in Marketing Award, but we also took out the Supreme Business Award for all business in the Rangitikei in 2003.
Highly Recommended by Kiwi Experience passengers
Over the years River Valley has won several awards from Kiwi Experience. These include the Peoples Choice Award 2014/2015 and Bronze Award for Accommodation of the Year in 2016.
In 2002, River Valley was judged by Kiwi Experience passengers as the 4th Most Highly Recommended activity and stop over in New Zealand.
We feel sure we would have placed better if the same number of passengers came through River Valley as went through some of the main route stops!
2002 was the only year in which this award was given out.
Highly Recommended by Kiwi
Experience passengers