Looking for a new exciting opportunity? We are stoked to be growing our team this coming summer.
Currently this position is available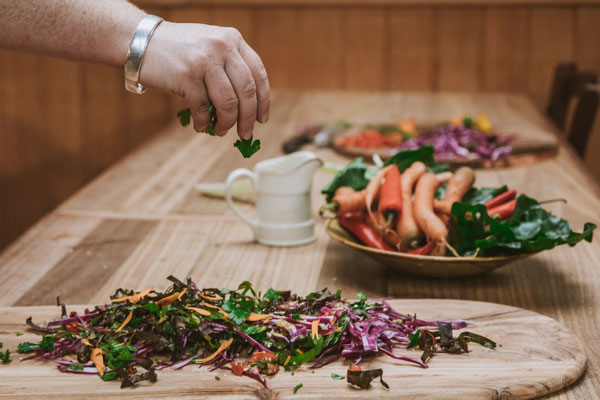 Posted on – 11th June 2022
Second Chef
We have an opening for a Creative Chef.  River Valley majors in Farm-To-Table style meals.  We are looking for someone who enjoys being able to pick fresh produce from the lodge gardens, and turn it into tasty, New Zealand food.  Our meals are a celebration of seasonal produce, sourced primarily from our gardens.  We do not publish a menu, because we do not have one! Rather our chefs are encouraged to work together with the team to create and prepare enjoyable meals with whatever produce is freshly and carefully harvested that day.
Genuine hospitality and service underpin our relationships with not only guests, but also staff, our local community and our environment.
The work will be varied – from cooking exciting and nourishing dinners, to cafe style fare, to catering for events and weddings and also helping out off-site on our multi-day horse treks. Time will also be spent preserving excess produce from our 2 gardens, entertaining guests and helping our staff in other areas of the business. This is not a typical chef role 😊.
We believe in serving food that is ethical, local and environmentally-sustainable. Our food comes from local and organic sources, and our on-site vegetable gardens. The vegetable gardens, and buying local free-range foods, are an expression of our core beliefs about the holistic nature of what River Valley does and how we operate. It is a natural fit for a company that firmly believes in protecting the environment.
Don't miss out on this exciting opportunity to work in a family business that is looking to the future.  
Check out the website to see what experiences we create for our guests.
This is a seasonal position for Summer 2022/23
To apply, please email janey@rivervalley.co.nz with a CV and covering letter.  Applications close Sunday 24th July 2022
Life at the Lodge
River Valley is isolated in some senses of the word. We are 30 minutes drive from the nearest town, and about 2 hours from the nearest city. If applying for a position with us, please bear in mind that you will not be living close to your present family and friends – you will have to make new ones!
The staff at River Valley are a fun lot and will welcome you into their circle. These are the same people you will most likely live amongst, work with, and play with.
It is not a requirement, but due to our remote location it is highly recommended that you have a driving license and a car.
Staff accommodation is available, either on or off site.
Amongst other great benefits, staff get discounted food and drinks at the lodge and can hop onto any of our trips if space allows.
Great Opportunities To Work
In A Fun Environment
These are great opportunities to work at a progressive adventure Lodge and enjoy the atmosphere and location that makes River Valley unique.
Often what was intended to be a stop over of a couple of weeks, becomes several months!!
River Valley is committed to being a drug and alcohol free workplace.
"When our son, Andy went to New Zealand he spent about half of his year there working at River Valley. Even 5 years later he continues to rave about the place and the people – and therefore it had to be on our route."
To read the rest of this Travel Blog, click here
"Thanks Brian, just a little update but I am now the river manager here on the Rouge. I would probably not be there without my experience at River Valley. Take care and keep doing the good work!
Cheers!"
Alexandre Jette