Suggested Christmas Packages
The Grinch
Start by sharing some antipasto platters, with local meats and cheeses and home made bread and dips. For your main course enjoy a slow cooked Farm-To-Table dinner, and finish off with some mini dessert boards to share. Enjoy a complimentary drink each with your meal.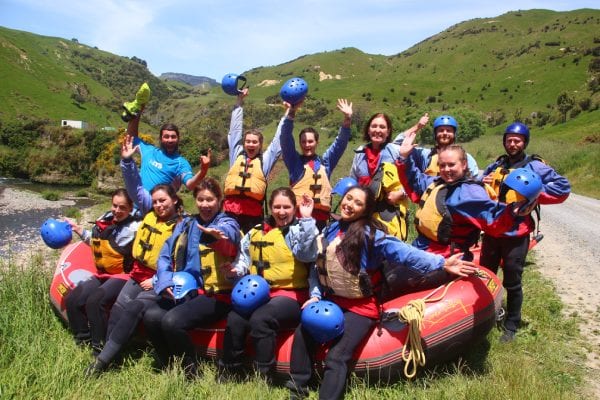 The Cracker
Enjoy a festive 2 course group lunch, followed by a group adventure activity of your choice. Choose from grade 5 rafting, scenic rafting or a half day horse trek. Choose to depart straight after your adventure or stay to celebrate with a few drinks at the bar.
The Rangitikei Sleigher
A festive 2 course lunch, followed by a group activity of your choice. Choose from grade 5 rafting, scenic rafting or horse trekking. When you get back from your afternoon adventure celebrate with a drink and antipasto platters. Later enjoy a slow cooked roast dinner, and some mini dessert boards to finish.
Create Your Own Package
Mix and match from any of the options below. Just get in touch and we can put together a custom quote for your group…
Meals
Our chefs are experts when it comes to preparing delicious, fresh, Farm-to-Table food.
1-3 course Christmas dinner options are available, with the option to also include drinks. Dinner prices start from $35 per person. Our chef will happily work with you to create a menu for your group. All our meals are served family style, to your table.
For a more casual option (or for your first course) we can make delicious antipasto party platters for $25 per person. These include a selection of local meats and cheeses, with home made bread and dips. Perfect to share with a bottle of bubbles after a rafting trip!
For dessert our chefs can prepare a Summer dessert board for you to share, with lots of mini treats.
Accommodation
Escape the outside world, switch off your cellphone and stay for the night at the lodge.
We have a range of accommodation, from shared bunk rooms to deluxe ensuite rooms.
Relax and enjoy a dip in the river, some drinks with your colleagues, a team game of volleyball, or a soak in the hot tub under the stars.
Grade 5 Rafting
Our most popular adventure activity, great for team building! Work together to navigate through 11KM of rapids, including 10 major rapids in the grade 5 gorge.
You could even have some cold beers or an antipasto platter waiting for you when you get back.
Scenic Rafting
A full or half day trip on the beautiful downstream section of the Rangitikei river. Suitable for all ages.
If you opt for the full day trip we provide a picnic lunch for you to enjoy on the river. For a half day trip lunch is served at the lodge before or after the rafting.
And for some extra excitement ask to take our inflatable kayaks!
Horse Trekking
Learn how we ride our horses bit-less and barefoot, using natural horsemanship techniques. Then, enjoy a ride through some spectacular NZ back country. We have half, or full day rides.
Our rides are only suitable for riders with some experience, and we can only take a maximum of 8 riders at a time.