Before booking a ride we recommend you check your riding ability using our guide below:
Beginner – reasonably confident riding a horse at a walk, a rising trot, and learning to canter.
Intermediate – confident and in control on a moving horse at all paces outside an arena, but not riding regularly.
Strong intermediate – an intermediate rider who is currently riding regularly (outside an arena) and is comfortable in the saddle for at least six hours per day.
Advanced – a frequent rider who is very fit, has an independent seat and soft hands, and is confident on a forward-moving horse at all paces over rough and variable ground on open terrain.
Conditions:
Minimum Age 13 Years
Maximum weight 95 kg.
This ride is not suitable for first time riders
Good on you Kiwis for telling us what you wanted!
Based on your feedback we have created the perfect adventure on horseback for you. "The Good Kiwi Ride." The fact is it is not easy for everyone to have an escape in these times. So here is something just for you. Good Times!
You asked for a horse-riding holiday that was priced for the New Zealander. Good as Gold.
You need that ride which would give you your horse-riding fix for your annual summer break. Jolly Good.
You requested a weekend away in the back of beautiful NZ countryside. 3 days and 3 nights was about the right amount of time you had to do this. Good O.
You wanted to experience a piece of Kiwi paradise and way of life without all the tourist patter. Sounds Good.
You would love some fun with a bit of good ole Kiwi banter. A few laughs, a hands-on experience, and the opportunity to learn some good horsemanship along the way. All Good.
You anticipate an escape that will be restorative, bringing balance back into your life, while sensing the rush that happens when you get a nudge out of your comfort zone. Good Sh*t.
You can chill out in true Kiwi fashion, under the stars hearing the river on a night out camping, with tall tales around the campfire. You can charge your glasses to that! Good Luck everyone.
This is going to be SO Good!
Here is the best part, and this is just for you, $1500! Our pleasure Kiwis, there are no frills, with great country, good guides, and beautiful horses to ride. We will look after the rest!
Day 1
Arrive River Valley Lodge in time for lunch. Midday at the latest but earlier is fine. Once you've been shown your accommodation and everyone is sorted, it is off on the horses. After your guides set you up with your horse, you will spend the rest of the afternoon out on a ride. This time will be spent getting comfortable and familiar with your mount. In the evening you will be dining at River Valley Lodge.
Day 2
Today is a full day ride out to camp. After breakfast at the lodge, you will pack your lunch and with your guides head out to catch the horses. You will be riding through some very scenic North Island high country. On arriving at camp its hands on, helping with horses and dinner. That evening you will be settling into camp with the stars overhead, the sound of the river running below and an evening around the campfire.
Day 3
A hearty cooked camp breakfast is on the menu. Great preparation for another full day on the horse! After breakfast you will pack your lunch and catch your horse. You will ride out over Pukeokahu, the hill of the hawk, arriving back at River Valley Lodge later in the afternoon. Time for a good shower, a delicious home cooked dinner, and a fun evening shared with your fellow adventurers!
Departure
After breakfast together, you can depart or linger. If lingering you can explore the Lodge gardens or take up the opportunity to join a rafing trip. The rafting at River Valley is amazing. You can even book another night if you have the time.
This ride is suitable for all riding abilities. At River Valley Stables we train our horses using natural horsemanship techniques, and ride them barefoot and bit-less. Even if you have ridden before this may be a new way of riding, and so our guides will teach you everything you need to know. Saddle fitness will help make your ride more comfortable. We suggest you get a bit of riding in a few weeks beforehand so you can enjoy it more.
The Details
Pack your sleeping bag and pillow. Bring some warm and some summer clothes. If you have your own riding gear bring that, if not we provide helmets, boots, and wet weather gear. You will need long pants for riding and a long-sleeved cotton shirt is great protection from sunburn. Bring something comfortable to wear in the evenings. Gloves are optional. Helmets are compulsory. We provide tents for the nights camping.

What Is Included
2 Nights in shared bunk room accommodation at River Valley Lodge (if you would prefer to upgrade to a private ensuite room just let us know, this is possible for an extra cost).
1 Night camping – we provide tents and sleeping mats but guests should bring a sleeping bag and pillow.
2 Full days of riding on Saturday and Sunday, and half a day of riding on Friday
Three hearty home prepared and cooked meals are provided each day. Included is lunch on the first day and breakfast on the day of departure, unless you are travelling home on the evening of the last day.
All equipment – Riding Boots, helmet, short chaps, and long oilskin riding coats for changeable weather.
What Is Not Included:
Transport to/from River Valley Lodge
Travel insurance
Additional accommodation or meals at River Valley before or after the trip (for example, lunch after the morning ride on Monday)
Alcohol (BYO is welcome on day 2, but not at River Valley Lodge)
Sleeping bags and pillows on the night at camp
Accommodation
You will be bunking at River Valley Lodge for the first and last nights with up to 5 others who will also be on the ride. There are showers, toilets, and a bar on site.
Our private ensuited rooms can be booked independently for those that want a bit more comfort. Either as a twin share/double or single. You will need to arrange this with reception when you book your trip.
At camp there is a long drop toilet, no shower, but you can wash in the river. BYO for this night. We encourage you to be hands on with catching and caring for your horse and helping around camp. The guides will be there to help. We provide tents, but remember to pack your sleeping bag and pillow.
If the weather is exceptionally unpleasant, and we feel it is in the best interest of everyone, we have the option to stay 3 nights at the lodge, exploring different parts of the countryside each day.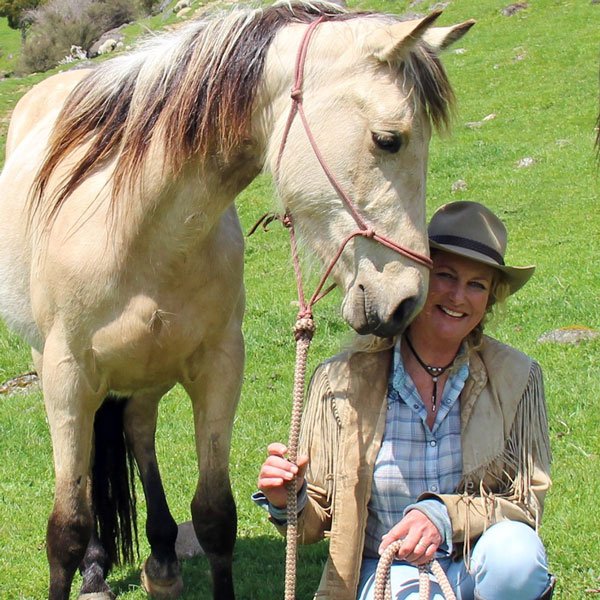 You'll be hosted by some good ol' kiwi guides. Long time locals, Nicola Megaw and her daughter Janey.
Nicola lives and breathes horses and is proud to have a string of naturally educated horses, who are blissfully happy bit-less and barefoot.