So, What Is in These Names?
Following last weeks blog which gave a brief history of some of the rapid names on the popular Grade 5 white water section of the Rangitikei River, I have had some feedback about my understanding of the history of those names, and some clarification on who and why the names came to be.
From talking to my brother in law, Richard Sage, who guided on this section of river with early pioneer white water rafting company, Buttercup, in the late 1970s and early 1980s, many, if not most of the names, were added by kayakers.
Throughout this period there were a group of kayakers who were challenging numerous rivers around New Zealand as they explored new runs. Full credit must go to this hardy group who navigated these, often back country rivers, with what looks to us now as inferior equipment.
This equipment included fibreglass kayaks which were long, unwieldy, and prone to cracking or even splitting in half if hitting a rock with any force. Personal equipment was not a heck of a lot better. It would be a number of years before much of the personal gear we take for granted came on the scene.
Storm Rapid
While a more idealised version of this name would imply some turbulent white water, which this rapid certainly has, the reality appears to be that it was named "Storm", because, you guessed it, a major storm hit while a group of paddlers were running it. Hence it became, "you know that rapid where that storm hit", shortening to simply "Storm".
Fulcrum
The feedback I have received says that "Fulcrum" was never called S Bend, (as I said in the previous blog), other than trying to describe the rapid to someone. As in, "you know, that rapid where the flow sort of follows an S bend". The Fulcrum name does appear to refer to the rapid being the Fulcrum of the trip. The biggest one, the tipping point of any trip on this section of river.
Fu Fang Falls
Unfortunately, it appears that the origin of the name "Fu Fang Falls" may remain forever lost.
The Last 7 Rapids Before Home
Picket
While again, the rapid has changed over the years, it still lives up to its name. A series of rocks that negotiating is like trying to climb through a "Picket Fence".
Rodeo
A fun smaller rollercoaster style rapid with a couple of good "bucks".
Rockslide
Very creative this one, named after an old rock slide on river left.
Waimarino
This must be the oddest name for a rapid on the river. In Maori, "Wai" is water, and "marino" is calm or still. Therefore, the name means calm water. Might be just me, but I don't get why a rapid got called "calm water".
Cascade Creek
Named after the waterfall that tumbles directly into the rapid from river left.
Toetoe Creek
Toetoe are a tall native grass. In this case the entry of a side stream into the rapid is hidden in a stand of toetoe, hence the name.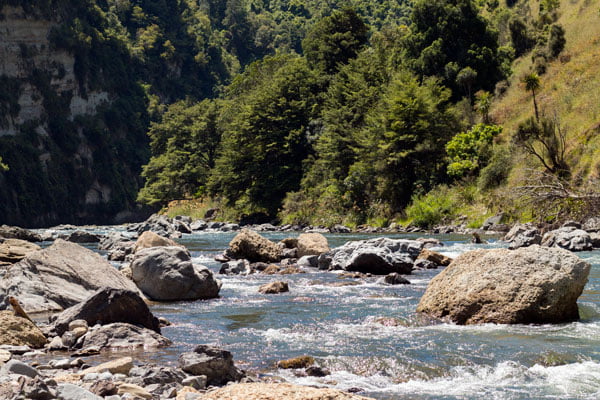 Slalom Rapid
This rapid is directly in front of River Valley Lodge. In times past, kayak clubs would set up a slalom with wires and poles and hold events. Invariably these events seemed to be a red rag to the weather gods, and the days competition would see the river flood out in dramatic fashion.
That sees us back at River Valley Lodge.
And One Non-Rapid
No article talking about place names on this section of the Rangitikei River can be complete without mention of "The Narrows". This is a spectacular rock formation where the entire river flows through a narrow channel carved in the sedimentary rock. The Maori version of the name and its history is detailed below. More details can be found here – http://www.aorangiawarua.maori.nz/history
"Tamatea also named the well-known feature on the Rangitikei River below Aorangi, referred to as "The Narrows."  After leaving the lizard on Aorangi, Tamatea descended to the river and at the narrows, where the river runs through a narrow gut, he discovered a bird-snaring settlement belonging to a Chief called Tarinuku.  The Chief welcomed Tamatea and presented him with food consisting of birds preserved in their own fat.  Tamatea called the place "Te Papa a Tarinuku" (The food trough of Tarinuku) and like Aorangi it has retained its name to the present day."
There is often plenty in a name.
Brian Megaw