Find Me a River, The Ultimate Family Holiday
This summer, picture you and the family on a river.
Multi-day river trips have long been a favourite family vacation at many destinations overseas. These types of trips vary from just a couple of nights out, to epic adventures that can last 20 days or more, such as on the Colorado River through Grand Canyon.
What may come as a surprise to many Kiwis are the opportunities to enjoy this type of adventure in New Zealand.
Not only do we have these types of trips, but we also have quite a selection of them. There is, in fact, quite a lot of choice. These choices vary from remote helicopter access multi-day adventures, such as found on the central North Island on the Rangitikei River or the South Island on the Karamea and Landsborough Rivers, to at the other extreme, gentle canoe journeys on the Whanganui River.
In between these extremes, there are still others. There is the Clarence in Marlborough, which has long been a popular trip, while in the North Island there are other sections on the Rangitikei and Ngaruroro Rivers. Mostly these do not require the expense of having to fly into the put on point.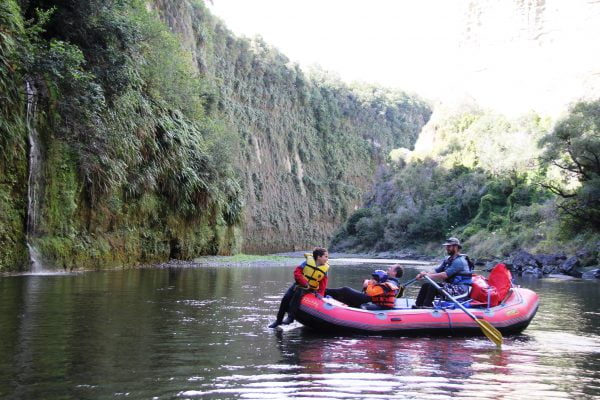 Duration
While many people may be tempted to take the option of two days on the water, one-night camping, we would recommend that you decide against this. Wherever possible, choose the most extended trip you can find.
Why?
I could give you many reasons, but really, they all come down to River Magic. A multi-day river journey puts you and yours into a different groove. So much of the stress of everyday life is left behind. Instead, life is simplified and becomes in tune with nature. There is the daily routine of breakfast, followed by breaking camp, loading boats and setting off downstream to find what surprises and delighters lie around each bend.
Usually, each new camp is reached by mid-afternoon. After pitching tents, there is plenty of time to swim, explore or read a book. If you are only out for one night, you never really get in the groove.
Why Families?
Not every multi-day river trip is suitable for families. Some of the more remote fly-in trips are not suitable, especially where younger children, say those under 13 years and involved.
However, other than these types of adventures, most other multi-day river trips are very suitable, and a great deal of fun for children and adults alike.
What Do You Need To Bring?
What you need to provide varies from operator to operator. In most cases, this will be little more than a sleeping bag, personal clothing and effects. Easy!
[cq_vc_cqcarousel displaystyle="gallery" images="8754,6238,3787,6234,5866″ thumbstoshow="5″ autoplay="yes"]
River Valley Multi-Day River Trips
We have been outfitting and operating multi-day river trips for several decades. During the last few years, in particular, these trips have become increasingly popular.
We offer a variety of departures on three different rivers, the Rangitikei, Ngaruroro and Whanganui. Boats used include rafts, inflatable kayaks and wooden dories. Our trip durations vary from two to six days.
Follow this link to find a multi-day river trip that works for you, your family and friends.  Or, view some of our suggested trips below.
This summer, taste some River Magic.
Brian Megaw
[ess_grid alias="multi-day"]