Going white-water rafting and not sure what safety systems are in place? Read on!
You may not know it, but New Zealand has one of the most highly regulated white-water rafting industries in the world.
This level of regulation seeks to ensure that people going rafting are guided by suitably qualified and trained guides. Sitting in behind the actual on water trip are Safe Operational Plans and Safety Management Systems. These plans cover areas such as Risk Management, hazard identification, communications, emergency procedures and much more.
Sometimes however, no matter how much preparation is put into a trip, things can go very wrong.
Rivers that are predominately rafted on in New Zealand are generally steep and rocky. This type of operating environment presents sets of challenges not found on bigger volume rivers often rafted on in other countries.
Commercial white-water rafting in New Zealand has now been a part of the adventure tourism scene for 45 years. Over that time a vast amount of experience has been gained, not only around how to guide a raft, but also, what tools, strategies and techniques can be used when things do go very wrong.
This is sharing of information and experience is where the annual River Rescue Workshop organised by the New Zealand Rivers Association is so important.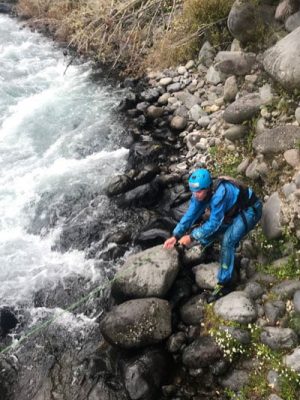 The River Rescue Workshop
Each year two River Rescue Workshops are held, one in the North Island and one in the South. For aspirant guides attempting to get their initial guiding qualification, the workshop is 5 days. For already qualified guides, the workshop is 3 days. For senior Guides it is a requirement to attend a Rescue Workshop at least once every 3 years. These workshops are in addition to regular training that each company may undertake on their own river.
This years North Island workshop was held on the Tongariro River and based from the town of Turangi. Attending from River Valley were Tom, Derek, Max, Isaac and myself (Brian).
While we all grumble about attending these workshops – time away from home and work – once there it is a rewarding experience catching up with peers and throwing yourself into the program.
This program is not some classroom-based series of lectures. Rather it is a mix of learning new techniques, refreshing existing skills and on river scenarios that challenge those skills.
What Was Covered?
Unless a guide has a solid skill framework, including working with ropes, knots, mechanical advantage systems and a sound knowledge and understanding of river hydraulics, then all the enthusiasm in the world would be wasted.
The first morning (3 day) was spent setting up rope systems, checking personal equipment, some first aid, and a session with Maritime New Zealand. This latter was a wake-up call for any guides who had not really bothered to read and understand their companies Safe Operational Plans.
Other than an hour each morning which was spent on First Aid, that afternoon and the following days were spent participating in various scenarios on the Tongariro River.
Over the three days we had to swim rapids, guide rafts, assess injuries, extract injured patients via vertical rope systems, cast throw ropes to people swimming rapids, practice with tethered rafts (a system used to get help to someone entrapped), practice live bait (similar to a tethered raft but a guide is lowered in the current via a rope attached to their rescue pfd), rescue someone supposedly unconscious floating in the river, practice CPR and more.
On the last day, problems were set that needed to be solved within a time limit.
By the workshop's conclusion on Friday I have to say I was tired and a little sore from all the exertion. However, it was a great experience to push myself in such a positive environment.
River Rescue Workshops are not a guarantee that something cannot go wrong on a white-water rafting trip. However, in New Zealand you can be assured that your guides are getting the best training on offer.
Have fun on a river this summer!
Brian Megaw